In order to allow for forest regeneration and restoration in Peruvian Amazon forests, the bestowing of land titles to indigenous people is critical, as it supports communities to make decisions about their own lands, such as the exclusion of loggers and small farmer settlers, and legally facilitates access to environmental and development projects, according to research carried out by the Environmental Change Institute (ECI). 
Aoife Bennett, Departmental Research Lecturer in Environmental Social Science at the ECI, has been studying the Peruvian Amazon for ten years, and lived there for four years getting to know local and indigenous people and the complex socio-ecological landscape on which they live. 
Her paper Forty-year multi-scale land cover change and political ecology data reveal a dynamic and regenerative process of forests in Peruvian Indigenous Territories was published in Global Environmental Change, ScienceDirect. 
Aoife said: "This study went into finer detail comparing the indigenous land use on a community level. Rather than a large-scale study which makes overarching statements about these lands in general, this was also about really finding out what the indigenous people want for themselves beyond forests and conservation. It was about studying their perspectives and the factors that drive their land use decision making. 
"Lots of indigenous people don't necessarily want to conserve forests, they don't have interest in it above other economic activities available on those lands, or don't know how to continue environmental activities after project funding dries up and support for conservation projects leaves. They often aren't given the tools once projects end. 
"When looking at deforestation and reforestation in each community, over time, there is huge variation. This is down to various factors including success and outcomes of activities like eco-tourism, the size of the community territory, internal and external socio-political processes, economic opportunities and even things like the construction of roads. 
Having land title will help with a lot of the growing back of the forest as it also means conservation work can take place." 
Aoife also believes the process of titling indigenous territories should not be dependent on whether they choose to conserve nature or choose environmentally friendly economic activities. Titling of indigenous territories should simply be part of territorial organization, and people can then decide how to manage their land with greater opportunities. 
With support, Aoife believes many indigenous people would choose to support forest regeneration. She said: "We're talking about large pieces of land and small populations, so whilst securing perimeters and monitoring the land is indeed hard work, with a title and legal rights to kick people off the land such as loggers, small holding farmers and so on, there is much more incentive to do so. However, it is also very important to understand the individual communities and their perspective. Their hopes, their demographic and possibilities. You can't just assume you can go in with a conservation project and have their support."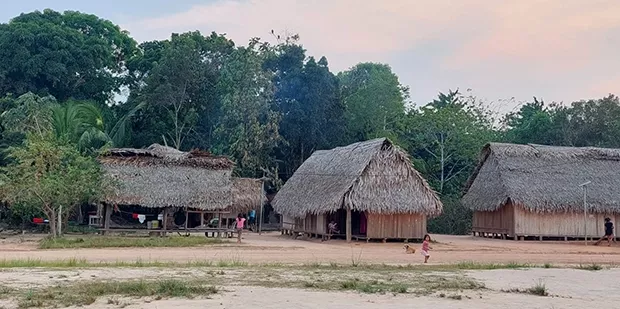 The research highlights two driving forces to facilitating forest regeneration and restoration on indigenous lands in the Peruvian Amazon. One is helping to get indigenous people their land title, and the second is the way deforestation is recorded and reported. Aoife said: "We give policy makers all this information on accumulated deforestation, and the government says that indigenous territories are the second highest category for deforestation in the country. But we should be including regeneration and reforestation metrics in our reporting because just including deforestation is not an accurate reflection in areas where forests regrow with little need for intervention or expensive projects. 
It's not true that once a forest is damaged it can never recover. It's important to highlight that a lot of regeneration is occurring naturally, not just because of conservation projects. By including the reforestation statistics it gives a more honest picture of forest condition, and together with local people this can help decide where conservation money would best be invested." 
The research found that if you are just calculating deforestation on titled indigenous lands the value is 5% (compared to 18% outside indigenous lands). But deforestation minus forest regeneration reduces this to 3.5% – unarguably a very low figure. 
Aoife added: "Part of my passion for this piece of work was to show how regenerative these areas are, and to highlight that scientists and researchers should not be generating socio-ecological information about areas that are so dynamic, in static terms. 
"When studying both indigenous territories and people, there is a huge range in their governance, practices and way of life, from "traditional" to "modern". People go back and forth between the two - and you find that dynamism both in ecology and society. 
"Funders need to approach indigenous communities on a more individual basis, taking the time to understand the communities and their territories before designing or implementing projects and interventions aimed at pro-environmental outcomes.