Empowering young people to believe they can make a difference to climate change is at the core of a new project called the Museum of Climate Hope. It aims to increase positivity and mental attitudes to overcoming climate change by reframing the stories of real artefacts around the themes of resilience, innovation and transformation. The projects founders, Bill Finnegan and Tina Fawcett explain more.
Launched in July 2023 the Museum of Climate Hope project highlights objects from six of the University of Oxford's museums and gardens and Cheney School's Rumble Museum The objects are on public display in their home institutions, and also available to a wider audience through a digital trail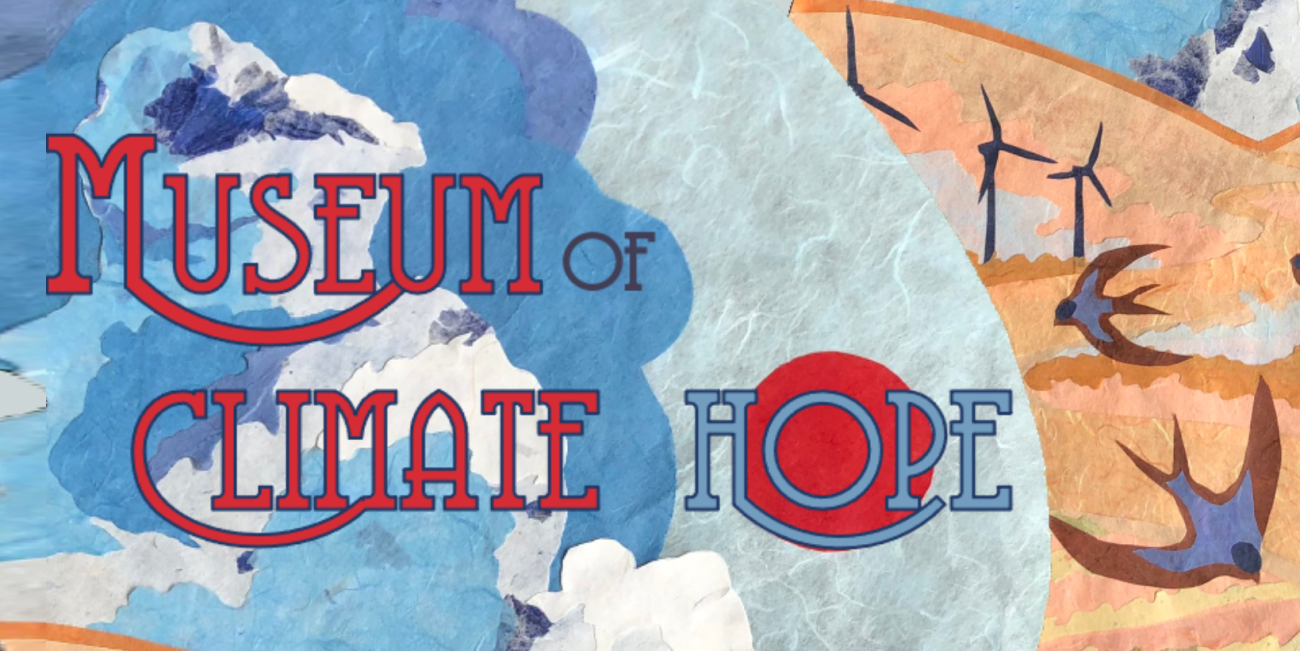 The purpose of the museum is to address climate change anxiety by reframing the stories of real artefacts, highlighting positive, hopeful themes including resilience, community, innovation and transformation.
To introduce the Museum of Climate Hope to different audiences, we recently ran two events – one aimed at families, the other for people working locally to tackle climate change.
For our first public event, we were delighted to be part of the History of Science Museum's Ships, storms and climate change event on 31 August. Visitors were introduced to the Museum of Climate Hope and the three objects located within the History of Science Museum. These tell stories of innovation, way-finding and holistic understandings of the earth and its people. For example, the Fitzroy storm glass is a nineteenth century ship's instrument designed to help anticipate danger - a source of hope in terms of steering a safe course and weathering the storm.
Using this idea of navigating towards a safe and hopeful future, we asked children to invent and draw devices that could help do just that. They created an amazing array of ideas – machines to clean up pollution, to move homes to safer places in times of flood or drought, and to help people choose healthy food.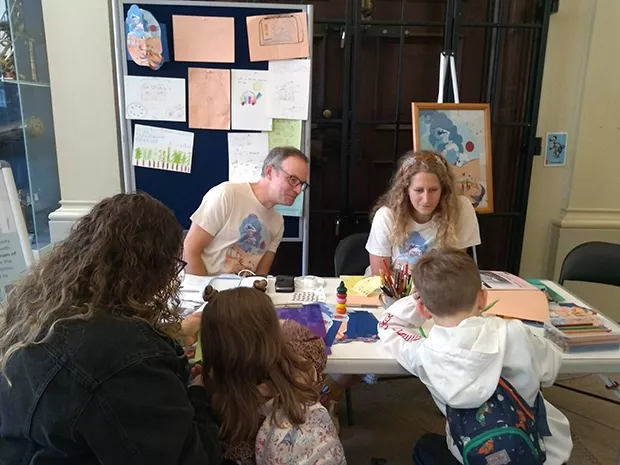 Our second event – Living with hope – took place on Saturday 2 September. This was designed for those active in tackling the climate crisis at a local level, run in collaboration with Chris Church of Oxford Friends of the Earth and generously hosted by Modern Art Oxford The aim of the day was to use the Museum of Climate Hope objects to inspire, help forge new connections and generate ideas and discussions which would develop further over lunch and into an art workshop in the afternoon.
We began with a two-hour walking tour of Museum of Climate Hope objects located in the Weston Library, Museum of History Museum, Pitt Rivers Museum, the Ashmolean, finishing up at the Museum of History of Science. Feedback from participants was very positive, noting they particularly enjoyed hearing from those involved in helping choose and contextualise the objects:
It was all interesting but it became inspiring when people spoke about their passion, about why these objects were so important."
We were particularly lucky to have Courtney Nimura, Curator for Later European Prehistory at the Ashmolean Museum speak to us about a bronze age cauldron found in the River Cherwell.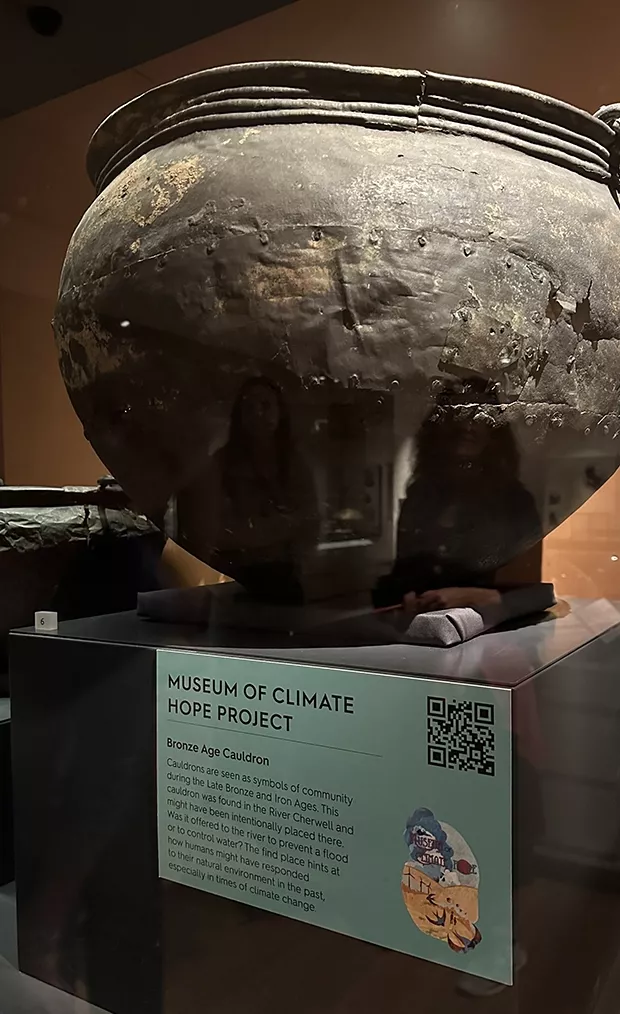 The online museum features a short film about each object, describing what it is and how it offers hope at times of climate change.
The walking tour was followed by lunch at Modern Art Oxford and a discussion about local environmental action and activism, and how hope could be maintained in challenging times.
The final part of the day was a workshop with Anya Gleizer (artist in residence at the Boundary Encounters show at Modern Art Oxford, as well as at the Museum of Climate Hope). Using her work on mapping to sustainable practice as part of the Boundary Project and Boundary Encounters, the group created a collaborative art piece of their own practices or organisations and main challenges on top of a silkscreen printed map of Oxford. Working together in this way developed mutual understanding and offered a space for further reflection on sources of hope. Feedback included: "I loved getting to engage with the event artistically", "extremely inspiring", "creative and hopeful!".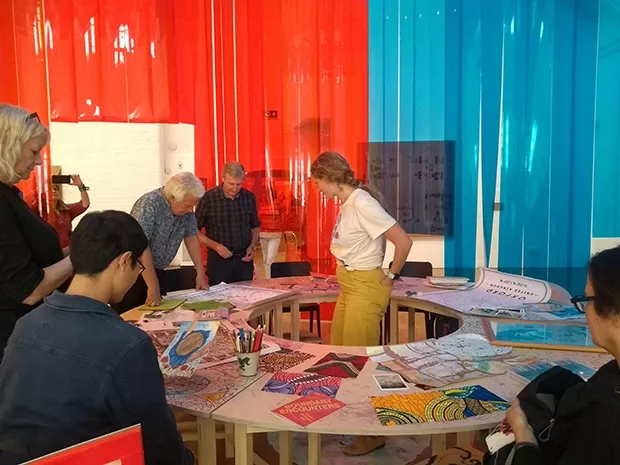 We invite you to engage with the Museum of Climate Hope, either in person in Oxford's museums and gardens, by accessing the online museum, or both!
Look out for future Museum of Climate Hope events taking place during the Festival of Social Science, Pitt Rivers Museum, Friday 27 and Saturday 28 October, and Oxford Humanities' Everything is Connected autumn season.