This year's Oxford Programme in Sustainability Leadership (OPSL) was once again a resounding success bringing together 100 student participants from across the university and more than 60 speakers from the world of sustainability.
The OPSL is a three-day extra-curricular course for students of any degree programme, organised annually by the ECI with the aim of providing an opportunity for career-relevant sustainability education and training to all Oxford students.
This year, the OPSL was bigger and better than ever, taking 100 students from every division and from first-year undergraduates to MBAs and DPhils, and a record number of expert speakers, many of whom are SoGE and Oxford alumni.
Organiser Dan Hall, Access, Outreach and Internships Officer, said: "The energy and enthusiasm from the course participants was contagious, and they were able to hear from a fantastically diverse range of speakers.
"This year's event was bigger and better than ever before, with 100 student participants and more than 60 expert speakers coming together for three full days of intensive discussions and workshops.
The energy in the room was fantastic, and I hope both students and speakers left the building enthused and inspired about a sustainable future."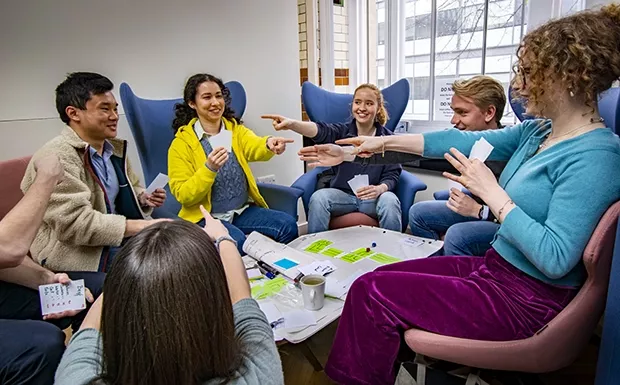 The majority of those who attended and gave feedback said their knowledge of sustainability had increased having attended the event.
It served to reignite passion for the topic of sustainability, whilst simultaneously giving insight into how to pursue that."
"Extremely well organised, great speakers, good variety of topics, and most importantly inspiring and hopeful."
"Informative, engaging and vast experience and expertise."
"It was an amazing course and incredibly informative for someone who has been on the more science and academic side of climate research – it introduced me a lot more to the political and socio-economic challenges involved in sustainability. Overall, it was really inspiring and gave me some pointers of some of the actions I can take, and some of the programs and campaigns being ran by lots of different people from different backgrounds… and it was lovely to be part of a really engaged group of people!"
Well organised event with interesting and passionate speakers."
Brilliant speakers and participants; full of passion and enthusiasm!"
In response to the feedback, in future the organisers will be looking at making some sessions longer, allowing more time between sessions for networking, and inviting more speakers from other countries to participate.
Since it first began the event has grown in popularity with available places increasing from 60 to 100 this year to meet demand – with the event still being oversubscribed.
One of the greatest successes of the event is that many of those attending as participants come back to run workshops years later, highlighting the very real cycle of student to world changer.